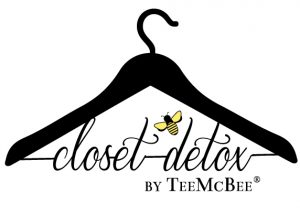 TeeMcBee really is the most important step. Every person is unique and has an individual style. TeeMcBee gets to know you in a 3-prong approach during the CLOSET DETOX, to truly understand who you are and support you in visually communicating your goals while being appropriate for the situations in your life each and every day.
The complementary phone session, the STYLE IQ questionnaire then the in-person in your closet – TeeMcBee has an intuitive ability to translate all this information into a fresh, modern and authentic style that is all your own. She documents your BODY SHAPE I.D., creates a POWER SHOPPING list, and creates new looks with the clothes that fit you and fit into your new style goals. Tee is always sensitive to your feelings and never just throws things away. She always comes from a place of teaching. Tee will explain why a garment  is or isn't honoring your body, whether it's the cut, proportion, style, fabric or color.
This is an intense one-on-one workshop all about you!