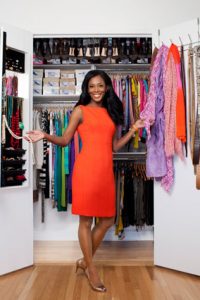 8 Ways to Tell If You Are STUCK In a STYLE RUT
Lack of color in your closet. You have 50 shades of grey or black from tees to suits.
You own more yoga pants (women) / athletic pants (men) than you own tailored pants.
Your first thought when dressing is to "be comfortable."
You never get compliments on your appearance and others ask if you are tired.
You experience no joy or excitement when dressing each day.
You've had the same hair style and or make-up for 5+ years.
You decided not to buy new clothes until you reach your 'goal' weight 2+ years ago.
Your closet is full, yet you have nothing to wear or you wear the same 20% over and over.
8 Ways to Move OUT Of It!
Color is CONFIDENCE and ENERGY! Learn to harness it and discover your personal POWER COLORS. You will be shocked at the way you feel!
Evaluate your wardrobe and detox your closet from anything that isn't honoring your NOW body or bringing you joy.
Put a full length mirror where you dress each morning – and use it before, during and after you dress.
Create positive affirmations and hang them up where you will them see each and every day.
Learn your body shape – this alone will save you much time, energy and money.
Create a Style Vision Board. Use magazines, catalogs and your phone to gather visuals of what you would like to move towards in your style.
Change one thing. Many times making one positive change motivates you to continue.
Create a team of advisers. By investing in your team, from an manicurist and hair stylist to personal wardrobe stylist and  image and confidence coach, you can do what you do best – and they will always make sure you look and feel your very best.

ABOUT TRACI MCBRIDE

Traci McBride is the wardrobe stylist of TeeMcBee Image Consulting and is a longtime supporter of nonprofit Dress for Success-Cleveland. She encourages readers to subscribe to her timely newsletter, schedule a style strategy call, or request Tee Speaks to infuse your staff or organization with a passionate professional punch of style to elevate and benefit everyone. Visit www.STYLEDbyTee.com to connect and be inspired.