Q: What type of items do you suggest carrying in case of a fashion emergency?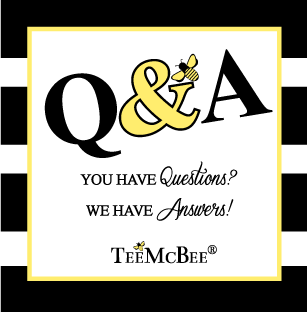 A: Love your question! Often, the first time I go shopping with a client, I visit a section of the store that has the type of products they never knew to look for. Then they get excited to know they can be prepared with at least a few basics. Once they have those they can build on needed items.
BASIC FASHION EMERGENCY KIT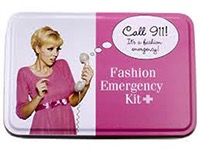 (Items with an asterisk I keep in my purse all the time. Everything else I keep in a sealed baggie in my car or tote bag if I've packed for an event I'm working):
Hollywood garment guards: Protect the part of the garment that directly touches your armpit. Keep the deodorant off and avoid telltale signs of stress. If you have ever ruined a blazer this way, you will stock-up!
Hollywood deodorant sponge: When you're slipping on that top or dress and see white deodorant streaks, this will magically remove them. Avoid using a tissue, trust me!
Hollywood fashion tape: Never use a pin for a hem or puckered blouse. Instead use a stripe of this double-sided clear tape for a quick fix. I also show clients how to use it in creative ways. For instance, tack down a scarf so it doesn't keep moving or sliding.
Wet wipes: Quickly removes mud from shoes, purses, etc. Or worse (use your imagination).
*Lint roller: Obvious reasons to use a lint roller on yourself, but when you help another person out just before they walk into a meeting or onto a TV set, they will LOVE you forever!
Rubber bands in many colors: I love to push up the sleeves of blazers for a more three-quarter-sleeve look, but sometimes they won't stay that way. I don't want to keep shoving up my sleeves all day, so I hide a matching color rubber band in a fold, and everything stays in place nicely.
Sewing kit: Easy to find and buy at most drugstores or sewing stores: a few basic colors of thread and needles with tiny scissors. I find some use it often and others perhaps a time or two over several years. But when you or someone you know needs it, it's worth its weight in gold.
Foot petals: The first time you wear a pair of shoes with a thin stocking or barefoot and you realize the heel slips, this dandy little "fill-in" pad will correct it.
*Floss picks/floss (depending on the type you prefer): The picks are easy to carry and have the added benefit of a pick at one end for those foods that get stuck. You don't have to put your fingers into your mouth to use one like you do when winding a strand of floss around two fingers. But please only do this in a restroom or some other private place where no one will observe you, as this is rude and unsightly to many.
*General make-up for touch-ups: I always carry a lipstick and gloss for use after eating and drinking, and powder for nose shines. Usually for day-to-day use, that is all I need. Should I be running all day and I want to look as fresh at my last appointment as my first, I will bring whatever is needed to do a touch-up for my eyes.
*Hand cream: It's always the item I forget to put on as I leave the house, and as I'm driving I realize my hands look and feel dry. A little mini-sized tube does the trick.
*Mini pack of tissue: Sometimes I even color coordinate for fun! Good to have for obvious reasons, especially for others that need a tissue during a luncheon.
*Gum/mints/breath spray: Whatever your preference. Again this is for others, too, and is the most asked for item on almost a daily basis.
As for the men, some of the above would be warranted plus the items below. I find it depends on the man, what he does for a living, and how he dresses each day.
Extra hanky: For the man that wears a suit and likes to be prepared if a lady needs him.
Chap stick: A lot of men I know carry one of these.
Nice pen: I wouldn't recommend a generic pen – make a statement of who you are.
Money clip: Some men prefer to carry cash outside of their wallet.
Wallet: Leather always makes a nice statement.
Pocketknife: Not usually carried with a suit, but most men say they carry one when dressed casually.
Mini-flashlight: Useful on a key ring, with a larger one in the car.
Remember, a majority of men are not carrying a bag or tote, so decide what is crucial and avoiding a bulging pocket. Depending on your daily events, you may have other items you always carry or at least have nearby to avoid being uncomfortable or having awkward moments.
ABOUT TRACI MCBRIDE

Traci McBride is the wardrobe stylist of TeeMcBee Image Consulting and is a longtime supporter of nonprofit Dress for Success-Cleveland. She encourages readers to subscribe to her timely newsletter, schedule a style strategy call, or request Tee Speaks to infuse your staff or organization with a passionate professional punch of style to elevate and benefit everyone. Visit www.STYLEDbyTee.com to connect and be inspired.